Programme Healthy Fit - Challenge 30 jours
THERE IS NO AGE TO GET BACK TO SPORT, TONIFY YOURSELF AND HAVE PLEASURE!
Without endless and exhausting cardio sessions
Without deprivation or frustration
While being a beginner or intermediate level
THE ADVANTAGES OF THE "HEALTHY FIT" PROGRAM
All you need is a gym mat, the work is done with your body weight
Manage your diet efficiently without frustration or deprivation
Gluten-free and lactose-free options for those who want to limit or avoid these intakes
Easily set up good habits (exercise and diet)
Exercises carried out especially for women at the beginner or intermediate level by a certified coach
Boost your self-confidence and regain your energy
Measure your results (tone + silhouette) every week
HEALTHY FIT A PROGRAM AT YOUR PACE!
Exercises led by a certified coach

For 10 years, our coach has been supporting women like you, who want to know how to perform movements correctly and stay motivated!

Train where and when you want

Track targeted exercises day by day and choose where you train, whether at home, on vacation or with friends, all you need is a connection and your gym mat!

Structured workouts to help you progress
Don't be put off, our coach will teach you how to exercise while having fun. The sessions are easy to follow and the exercises diverse and short.

Feel empowered, regardless of your fitness level

You can start training with us at any time. The exercises are designed for women at the beginner and intermediate level.
A COMPLETE 4-WEEK PROGRAM FOR A REFINED AND MORE TONED BODY
Your journey to refine and tone yourself starts here!
---
---
3 main axes to reach your fitness goal:



Exercises: muscle building and cardio at your own pace
Food: specific menus to target fat and balance intake
Positivity: positive quotes to keep the right frame of mind
The Healthy-Fit program was designed for women who:
Every week, 15 new videos

to train at home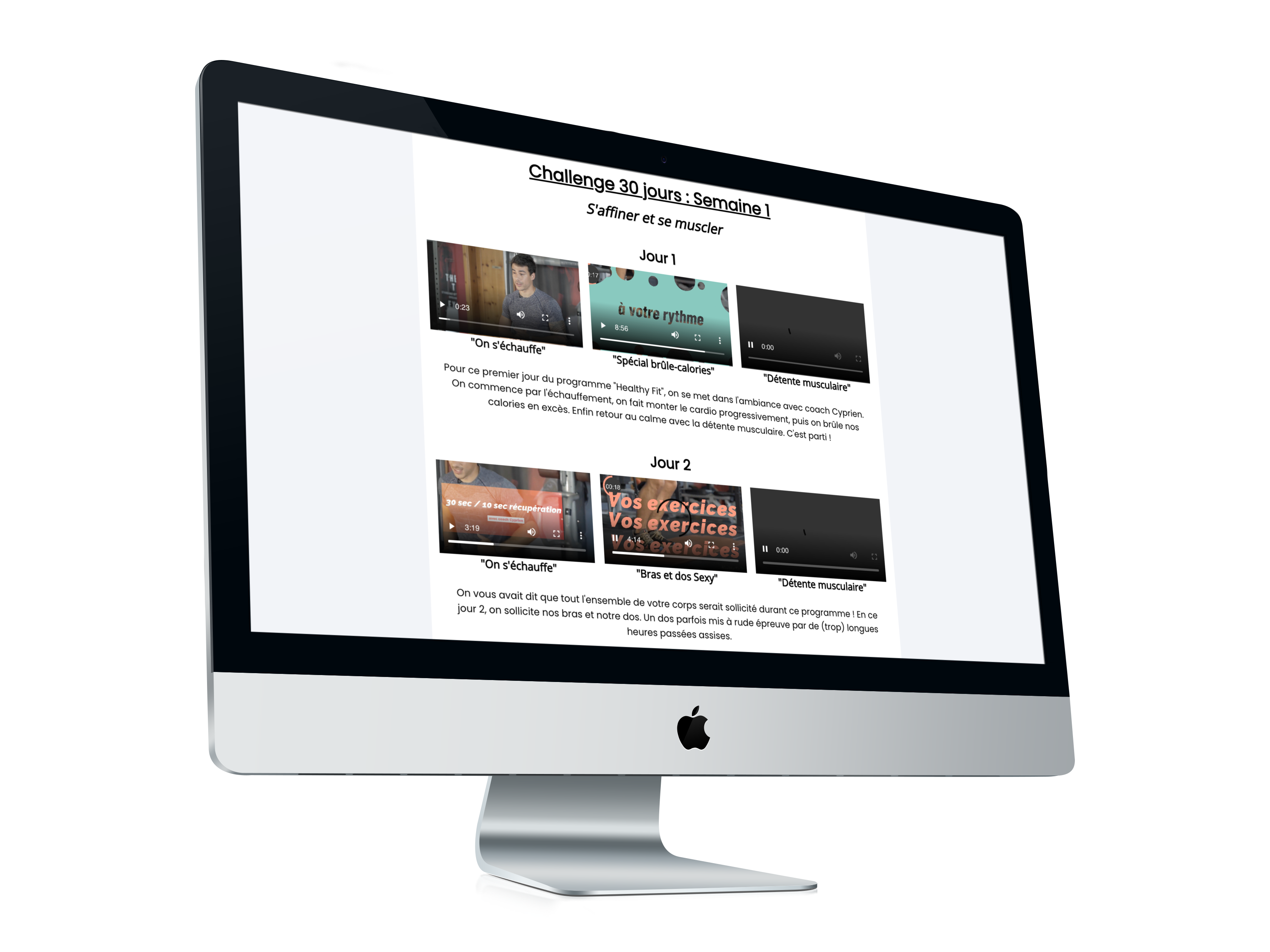 30 minutes of exercises every day spread over 3 modules
2 muscular days of rest per week
Each module lasts 10 minutes: enough to ensure a fast and efficient session wherever you are!
WHY THE "HEALTHY FIT" PROGRAM ?
Strengthen your abs and aim for a flat stomach
30 days of menus to target fat and revitalize you
---
4 weeks of menus (breakfast, lunch, snack, dinner)
15 slimming and healthy recipes
Ebook designed and validated by a state-certified dietitian.
30 days of positive citation to keep the right frame of mind :)
We know how much your state of mind conditions your results. You will therefore also receive your "Positive Journal". We have gathered quotes from great thinkers and artists to allow you to surround yourself with good energies throughout the program!
➥ Discover your program in detail
3 modules to reach your fitness and well-being goal!
Challenge Semaine 1 - exercices vidéo (15 vidéos)
Challenge Semaine 2 - exercices vidéo (15 vidéos)
Challenge Semaine 3 - exercices vidéo (15 vidéos)
Challenge Semaine 4 - exercices vidéo (15 vidéos)
Votre Ebook d'exercices illustrés (35 pages)
Your 30-day nutrition and menus Ebook validated by a dietician (59 pages)
Your 30-day "Positive Journal" Ebook (36 page
JOIN THOUSANDS OF WOMEN IN FRANCOPHONIE
Fiona F.
A COMPLETE PROGRAM
+ 3 EBOOK BOOKS FOR: € 39